Power Your Hospital's RCM with a

Powerful Reporting Dashboard
Access the data you need to manage your hospital or health system's revenue with clear insights from SalientView—a powerful RCM reporting technology tailored to the reporting needs of hospital executives, physicians, and finance professionals.
– Clear, intuitive data dashboard
– The RCM reports you need—quick and easy
– Seamless data integration with your EMR
– View your RCM performance in real-time
Please fill out the form below to request a SalientView demo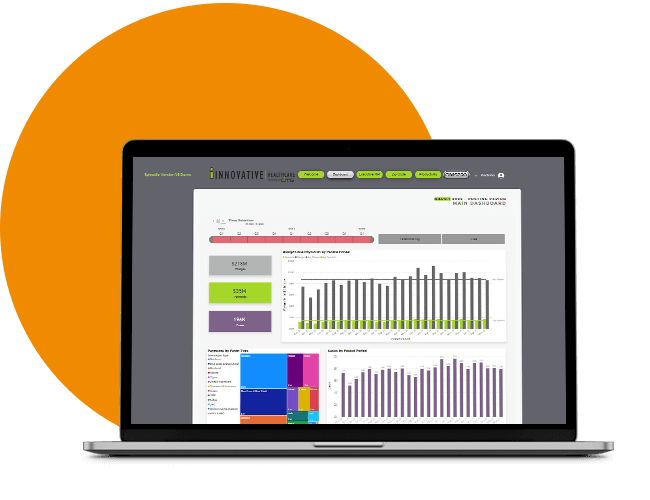 SalientView is an interactive data management tool that provides tailored data for hospital CEOs, physicians, accountants, chart coordinators, and advanced practice providers. Anyone involved with revenue cycle at your hospital or health system can benefit from the clear, valid, and actionable data SalientView provides.
SalientView has revolutionized the way our group uses data. No sifting through endless reports or screens full of dials. Group and individual provider decisions are made based on data in a fraction of the time it used to take.  We have the KPIs, metrics, and measurables when we need it, the way we need it. 
Scott Robinson, MD President
Lawrence Emergency Medicine Associates
Hospital and Health System Leaders Trust SalientView
SalientView is designed to increase data transparency, speed of use, and communication so your revenue cycle management efforts are well-informed and efficient.
– Data visualized and engineered to communicate results and provide actionable information efficiently and comprehensively.
– Detailed information summarized for quick visibility into practice metrics
– Access to KPIs across the practice data ecosystem
– Useable information designed to be reviewed and understood in minutes not hours
– Geographic reporting of payer behaviors by zip-code
– Transparency that builds trust and the relationship
– Optional reporting enhancement that provides individual provider-specific
– Performance reporting so they can see how they contribute to the team
– Access to schedule, productivity, and EMR access through approved API
– Access to credentialing data, reports, HR documents, and direct messaging features
– Seamless integration with our hospital and health system billing system
– Paperless coding and verification of patient medical records
– Electronic medical record storage and index for easy retrieval
– Denial and aging management, enabling quick response to denied and aging claims
– Automated processes that allow for more consistent and valuable data returns
Learn How SalientView can Help you Access the RCM Data You Need 
See for yourself how SalientView could help you improve your organization's financial performance.